We are manufacturing and offering a high-quality collection of Veneer Stone Sheets. Our wide range of products is in high demand in the market due to highly creative product solutions, best quality, and on-time delivery services. Our company is proud of the success that comes because of our extensive industrial/marketing experience, domain expertise, and the ability to meet the requested demands of our clients..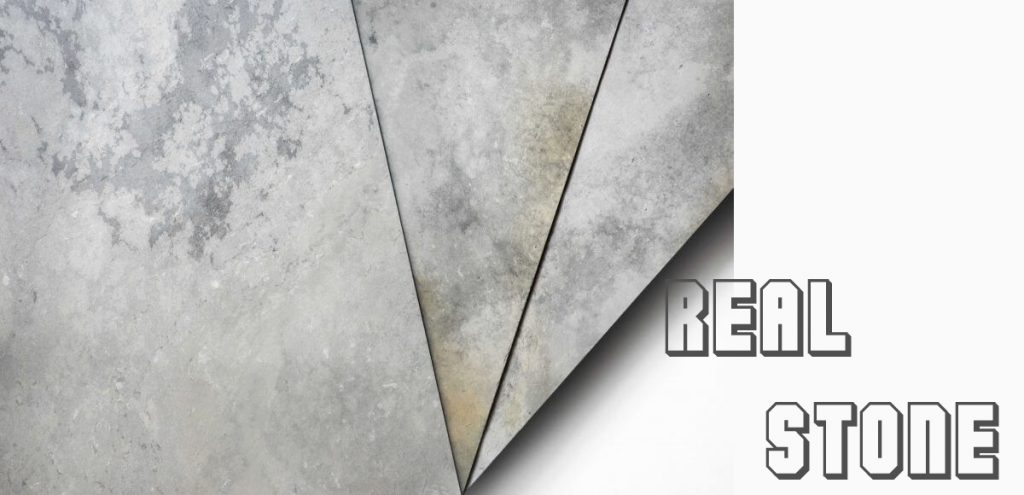 Real Stone Veneer is a popular choice for enhancing the appearance of both interior and exterior spaces. It offers the natural beauty and durability of authentic stone, while being more affordable and easier to install compared to full-sized stone slabs. Real stone veneer is made by cutting thin slices of natural stone from larger pieces, resulting in a lightweight and flexible material that can be easily applied to walls, fireplaces, or other surfaces. The variety of colors, textures, and shapes available in real stone veneer allows for endless design possibilities, enabling homeowners and designers to create unique and visually appealing spaces. Also, stone veneer is highly durable, making it a long-term investment because of its natural composition, it can complement any architectural style. Whether you're looking to add rustic charm or modern elegance, real stone veneer is a versatile and cost-effective option that can transform your space into a stunning masterpiece.
ULTRA THIN is a revolutionary stone veneer that brings elegance and versatility to any interior or exterior design project. With its slim profile, ULTRA THIN provides the look and feel of natural stone while offering exceptional ease of installation. This innovative product is manufactured using advanced technology that allows for precise cutting and shaping, resulting in incredibly thin and lightweight stone panels. Despite its thinness, ULTRA THIN retains the durability and strength of traditional stone, ensuring long-lasting beauty and resilience. ULTRA THIN offers a wide range of design possibilities, allowing you to create stunning accent walls, fireplace surrounds, backsplashes, and more. Due to its thin nature, it is easier to handle and install, reducing labor and transportation costs.Whether you're a homeowner, architect, or contractor, ULTRA THIN provides a cost-effective solution without compromising on quality or aesthetic appeal.
Translucent stone veneer is a special type of stone covering that lets light pass through it. It's made by attaching thin layers of natural stone to a backing material like fiberglass or resin. In addition to being lightweight and flexible, it is also easy to apply to walls, columns, and even curved surfaces. Your decor can be complemented with stone veneer in a variety of colors and patterns.
At the Mosaic Collection, we understand the power of natural beauty. Our stone veneers are meticulously crafted to mimic the elegance and allure of genuine stones, while offering the convenience and affordability of veneers. From sleek marbles to rustic granites, our collection encompasses a wide range of styles, colors, and textures, allowing you to find the perfect match for your design vision.
Each stone veneer in our collection is created with utmost attention to detail, ensuring a seamless and authentic appearance. Our veneers are lightweight and easy to install, making them suitable for both interior and exterior applications. Whether you're revamping a fireplace, creating a stunning feature wall, or adding a touch of sophistication to your kitchen, our stone veneers will bring your ideas to life.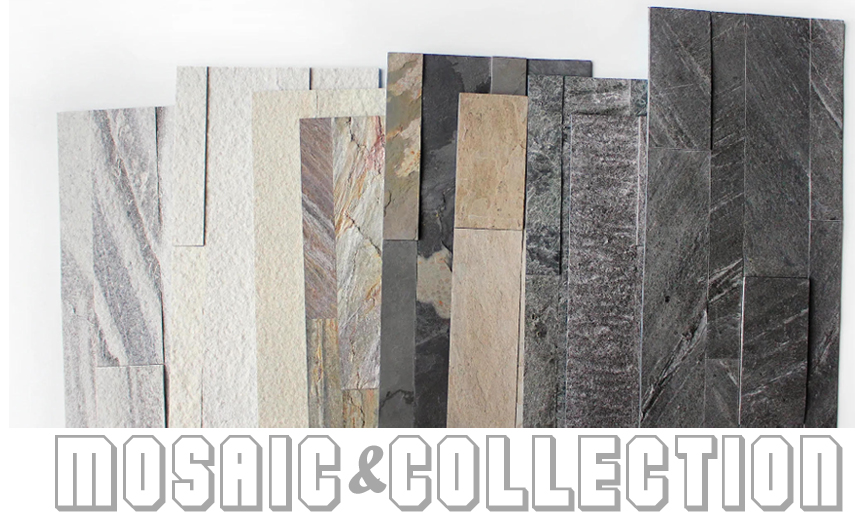 Immerse yourself in the beauty of nature with our selection of sandstone and marble veneers. Each stone is handpicked for its unique color variations, textures, and patterns, ensuring that no two pieces are alike. Whether you prefer warm earthy tones or cool, elegant hues, our collection has something to suit every taste and style. Enhance the elegance of your interiors or exteriors with the timeless charm of our stone veneers. Whether you're looking to create a captivating feature wall, a striking fireplace surround, or an inviting outdoor living space, our stones offer endless possibilities.
With our commitment to quality and craftsmanship, you can trust that our sandstone and marble veneers will not only enhance the aesthetics of your space but also stand the test of time. Discover the beauty of nature with our Sand & Marble Collection and make a lasting impression.
Our stunning stones veneer collection is crafted with meticulous attention to detail, bringing you a unique range of captivating stone finishes for your architectural and interior design needs. Oxidolite, a remarkable fusion of natural stone and innovation, is the embodiment of elegance and durability. Each veneer piece is expertly crafted to showcase the intricate patterns and rich textures found in the earth's geological wonders. From rustic charm to contemporary allure, our Oxidolite Collection offers a diverse selection of finishes, including marble, granite, quartzite, and limestone.
Whether you are seeking to enhance your home, office, or commercial space, our Oxidolite stones veneer will elevate any setting. With its lightweight and flexible properties, installation becomes a breeze, ensuring a hassle-free experience. Immerse yourself in the beauty of nature as you embrace the timeless appeal of our Oxidolite Collection.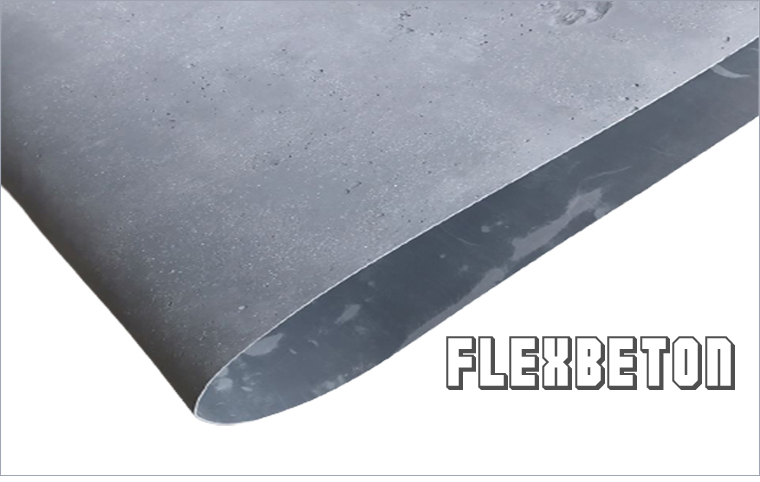 If you're looking to enhance the appearance of your space with the timeless beauty of natural stone, our Flexbeton Collection is the perfect choice. Our stone veneer products are designed to replicate the look and feel of real stone, but with added flexibility and ease of installation. The Flexbeton Collection offers a wide range of stunning stone veneer options to suit any style or preference. Whether you prefer the rustic charm of stacked stone or the sleek elegance of smooth cut stones, we have something for everyone. Our collection is available in various colors, textures, and patterns, allowing you to create a truly unique and customized look.
One of the standout features of our Flexbeton Collection is its versatility. Our stone veneer can be installed on various surfaces, including walls, columns, fireplaces, and more. The lightweight nature of our products makes them easy to handle and install, saving you time and effort during the renovation process.
Stone Veneer Manufacturer in India
We are a leading stone veneer manufacturer in India, specializing in the production of high-quality, natural-looking stone veneers. Our range includes marble, granite, sandstone, and slate veneers, available in a variety of colors and finishes. Our state-of-the-art manufacturing facility and skilled craftsmen allow us to produce stone veneers that are durable, easy to install, and maintenance-free. We take pride in our commitment to quality and customer satisfaction, and our experienced team is dedicated to providing you with the best possible service. Contact us today to learn more about our stone veneers and how we can help transform your space.
Elevate Your Space with Granite Veneer Sheets
Decorate your home with the luxurious look of granite veneer sheets! Our high-quality granite veneer is a great way to enhance the décor of any room in your home. Our range of colors and finishes provides a variety of options to match your style and preferences. Our durable and easy-to-install granite veneer sheets are perfect for accent walls, fireplaces, kitchen backsplashes, and more. Transform your home with the timeless beauty of granite veneer sheets.
Decor Your Space With Marble Veneer Sheets
Bring a touch of elegance and sophistication to your space with our premium marble veneer sheets. Our natural-looking marble veneer is available in a range of colors and finishes, providing endless options to complement your interior design. Whether you're looking to create an accent wall, fireplace surround, or kitchen backsplash, our durable and easy-to-install marble veneer sheets are the perfect solution. Transform your space into a luxurious retreat with the timeless beauty of marble veneer.
Learn the differences between natural and manufactured stone.
Our experts will personally guide you through the design process.